Taking advantage of the earlier daylight and the disappeared lake I got straight under the 'Old Girl' in an area that had been a couple of inches deep in water last night. That was of course after feeding the confused pigs, hens and checking all the drains around the croft. Being somewhat surprised to find them all clear and not blocked. Last night's flood around the house must have just been a consequence of the sheer volume of water rather than any blockages. So after making a mental note to do some modifications to the local geography with Calum the Kubota I set about fitting my £25 turbo hose and pipe in place of Land Rover's genuine £169 version or the £10 Britpart version one that sadly didn't fit. Having said that I'm pretty sure two NTC2337 fastened together would do the trick https://lifeattheendoftheroad.wordpress.com/2020/10/15/how-much/
Then I turned my attention to what should have been a really, really simple task, that of fitting the stop light switch that had recently arrived.
Having already given up trying to fit the 'Britpart shitpart' one I'd ordered a genuine Lucas 'Prince of Darkness' one, though everyone of them actually came came from Taiwan
Lets hope the Taiwanese ones don't have the usual 'Magic smoke' that used to accompany Lucas products hey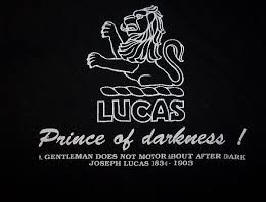 The normal procedure for fitting this simple on off switch that's actuated by the brake pedal would be to simply remove the bonnet stay and lift the bonnet right up (or even take it off). If you do lift it right up though, make sure you put some protection against the windscreen (specially if you have a spare wheel mount on the bonnet) and tie the bonnet back so it doesn't decapitate you.
To prevent up ward pressure from the brake pedal which may hinder fitting, press the pedal down or get someone to do it for you. Me, I have a suitable bit of wood.
You should then be able to replace the switch but I had given up on that with the Britpart one as I couldn't seem to get the threads started.
Thinking the internal threads were damaged or full of paint I ran a bolt in and out a few times first (It's M14 x 1.5 and the fuel tank drain plug fits). However, even after doing this it took me an inordinate amount of time to get the switch to start. This being mainly on account of the restricted access and angle you have to work at. I am certain that under normal circumstances it would be just simpler to remove the whole pedal box assembly but mine had had some of the captive nuts replaced by ordinary ones so it would have been a 'two man job'. Anyway, I got it fitted eventually, then using my bit of wood set the switch with a multimeter so it closed just as light pressure was applied on the brake pedal.
Making sure that it went 'open circuit' when released.
Spending a couple of hours after that ensuring that the current from the brake light circuit ended up at the correct terminals in my new junction box to the cables in the chassis.
Rushing to the village after that to post some letters and parcels.
At this point, as you can see from the eastward view from Brochel and the northward one from Cnoch an Uan, it wasn't a bad day.
On the way back 'wee dug' and I had a look round the almost completed EE mast at Cnoch an Uan, which looks like it is just awaiting its power supply judging by the one empty concrete pad.
Even the brief trip to the Post Office had eaten into the afternoon light and by the time I got back home there was little daylight left but I did manage a little more work on the 'spaghetti' before lack of daylight drove me inside to my venison stew and an evening with the Calcutta Light Horse https://en.wikipedia.org/wiki/Calcutta_Light_Horse operation Creek and of course bed with Rodney
 https://en.wikipedia.org/wiki/HMS_Rodney_(29) I know, I know, I 'need to get out more' like most people these days but I was like this before 'Lockdown'
Anyway, it's far too nice to be indoors now, I'm off