True to the forecast, it wasn't such a great day today. The torrential downpour did arrive as predicted, unfortunately my hydro turbine couldn't take advantage of all the water flowing down the Arnish valley. XC weather quite correctly indicated a relatively dry start to the day and after managing to stay in bed until 7:30 Bonzo and I set off to make the most of it. Molly waited in the car after we fed the jumpy piglets.
Marmalade, Jiffy and Spotty being a lot less jumpy than they were and with every feed they get bolder and bolder leaving less and less in their dishes for the crows to polish off. Not that long ago I'd have taken to lying in wait for hoodies with a shotgun but nowadays I'm quite fond of my little 'murder of crows'.
Anyway Bonzo and I didn't take the usual route to the Secret cove, instead we cut off the path at the bottom of the hill
and headed for the sea. There is a spot just off the road where I once found some winter chanterelles https://www.wildfooduk.com/mushroom-guide/winter-chanterelle/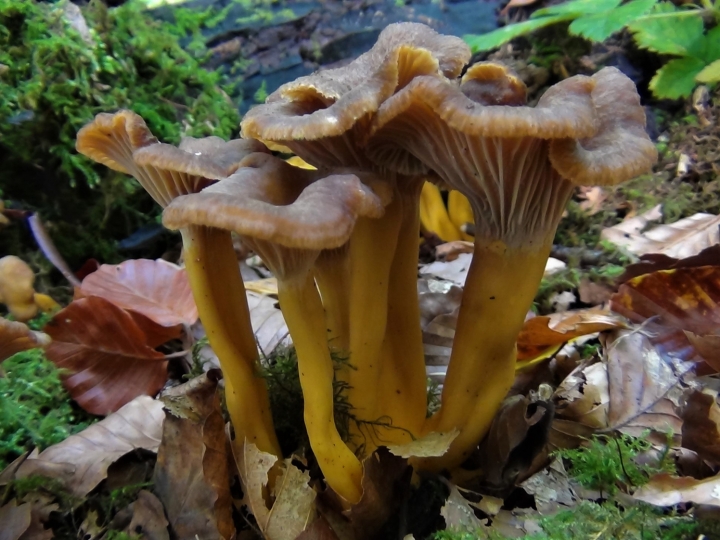 though that was years ago and I've never seen them there since. Dunno why they're named chanterelles cos I don't think they are and I prefer the Dutch name of yellow legs cos that is what they have
Unlike chanterelles they have a hollow stem and much firmer flesh, another name for them being trumpets. Whatever, as in previous year there were none so Bonzo bounced and I lumbered on by and to the shore.
Torran's vivid golden aspen a sharp contrast to the less advanced autumnal hues around them.
Unlike the aspen above the secret cove that had shed almost all their foliage.
Once down at the shed I checked the output across the phases directly at the turbine.
I'd already done up at the shed yesterday but was just hoping in vain that it was caused by a bad connection in the wiring or isolator, alas no
Still, the journey did turn up two nice big 'shrooms which I fried in butter and had on brown bread with a fried egg for lunch. Made a welcome change from my usual rabbit food
Most of the rest of my day was spent putting the transfer box back in the 'Old Girl' which should have taken me about an hour but I managed to stretch out all day. So being how there's only so many angles you can photograph a Land Rover transfer box from I thought I'd look at my phone gallery as I've not actually used my Panasonic since I stalled blogging.
The first festie
Sure I've kept banging on about lockdown not really affecting me up here, well one area it did was the festival circuit, I've no been to one in years, well it feels like it. So the week prior to the annual docking the dugs and I took off to Girvan to see my ex wife who'd agreed to watch Molly and Bonzo for a few weeks whilst I was away at dock. It just happened to coincide with the Playground Festival in Glasgow too https://www.playgroundfestival.co.uk/line-up . Well, it would have been a sin not to go hey, Friday night I went with Barbara and her sister, Saturday with Ross and finally Sunday night with Barbara once more
Friday's highlight being Orbital,
Saturday's Vitalic
and Sunday, Martha Reeves and the Vandellas. Martha may be 82 but she still puts on a show
Macy Gray was pretty good too and Nile Rodgers would have been awesome had the pishing rain not driven us away
Sure it was great to see some live bands again and despite the poor organization and long queues at the beer tents it was awesome and a great venue at Rouken Glen https://www.roukenglenpark.co.uk/ Easy to get to from Barrhead where we stayed, not too busy and no queues to get in despite having to provide proof of a negative COVID test taken in the last 24h