Not got much in the way of enthusiasm this morning peeps but then I'm only half way down the first strong cup of coffee. Once more it's lashing down, this time, like me, without the same enthusiasm as on previous days. Still, it is wet and forecast to get even wetter, though yesterday it was actually a pretty nice morning, the deluge not arriving until later.
First thing I did after the morning feeding round was go and investigate my closest hydro turbine as the voltmeter in the kitchen was lower than it normally is first thing in the morning. The house battery bank is nominally 48V but having lain overnight with both turbines putting out a combined 1.6kW it's usually just shy of 60V. Yesterday morning it wasn't even 50V which is what I would expect were I relying on solar alone. Meters in the 'power station' that is my generator and battery shed confirmed that the Stream Engine was only producing a couple of hundred Watts so Molly and I went to investigate.
Sure enough there wasn't enough water going into the header tank due to the intake being partially blocked with fallen leaves. An all to familiar occurrence on this turbine surrounded as it is by birch, hazel and hawthorn. Soon had it cleared right enough  but the cold water took my breath away, it was much chillier than the last time I unblocked it at the start of the month.
As 'wee dug' seemed to be enjoying herself I decided to wander over to Torran. Molly has got to an age where she prefers to lie in the car all day rather than go walkies but yesterday she seemed to have reacquired a little of her former youthful bounce.
So, in the forlorn hope of collecting the odd late 'shroom we cut through the enchanted birch woods towards the golden aspen of Torran. Calling at the Schoolhouse on the way to refuel with a strong black coffee with my Mate who had just returned from his morning swim in Loch Arnish. Sure the fresh water burn that powers my hydro was much colder than the sea but still it must have been boodly cold.
Specially considering the amount of fresh water that had gone into the sea these last few days. The Torran track was noticeably filled with trenches and washed gravel left by the torrents of rain.
Smokeless
As the forecast showers showed no sign of arriving I decided to continue with trying to sort out my spaghetti  like wiring by trying to make some sense of the confusing array of colours.
I had managed to run two new cables through the chassis and terminated them in junction boxes at either end. Now it was just a matter of deciding which ones to marry to the originals. Not too difficult in theory as I would just use the international standard for the 13 core cable used on tow bars for the lighting and the 7 core cable could do the other stuff like fuel gauge, rear wash wipe, heated window etc. I would have plenty of spare wiring so I could double some of these up for the higher current of the wiper and heated window.
It's one of those jobs that requires much more 'thinking' time than actual 'doing' time and isn't helped by my chaotic working practices and poor memory.
I seemed to spend most of my day looking for things I'd just put down and still have not found my phone yet
Still, I was pleased with my progress despite the best efforts of 'Lucas Prince of Darkness' to thwart me. https://www.ntnoa.org/LucasSmoke.htm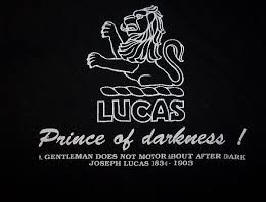 The function of the wiring harness is to conduct the smoke from one device to another. When the wiring springs a leak and lets all the smoke out of the system, nothing works afterward.
Starter motors were considered unsuitable for British motorcycles for some time largely because they consumed large quantities of smoke, requiring very unsightly large wires.
It has been reported that Lucas electrical components are possibly more prone to electrical leakage than their Bosch, Japanese or American counterparts. Experts point out that this is because Lucas is British, and all things British leak. British engines leak oil, British shock absorbers, hydraulic forks and disk brake systems leak fluid, British tires leak air and British Intelligence leaks national defence secrets.
Remarkably I got most of the legally required circuits for the lighting working despite the demon Lucas. Right enough I had to order a new rear fog light switch but at least I never let out any of the 'Magic Smoke' for now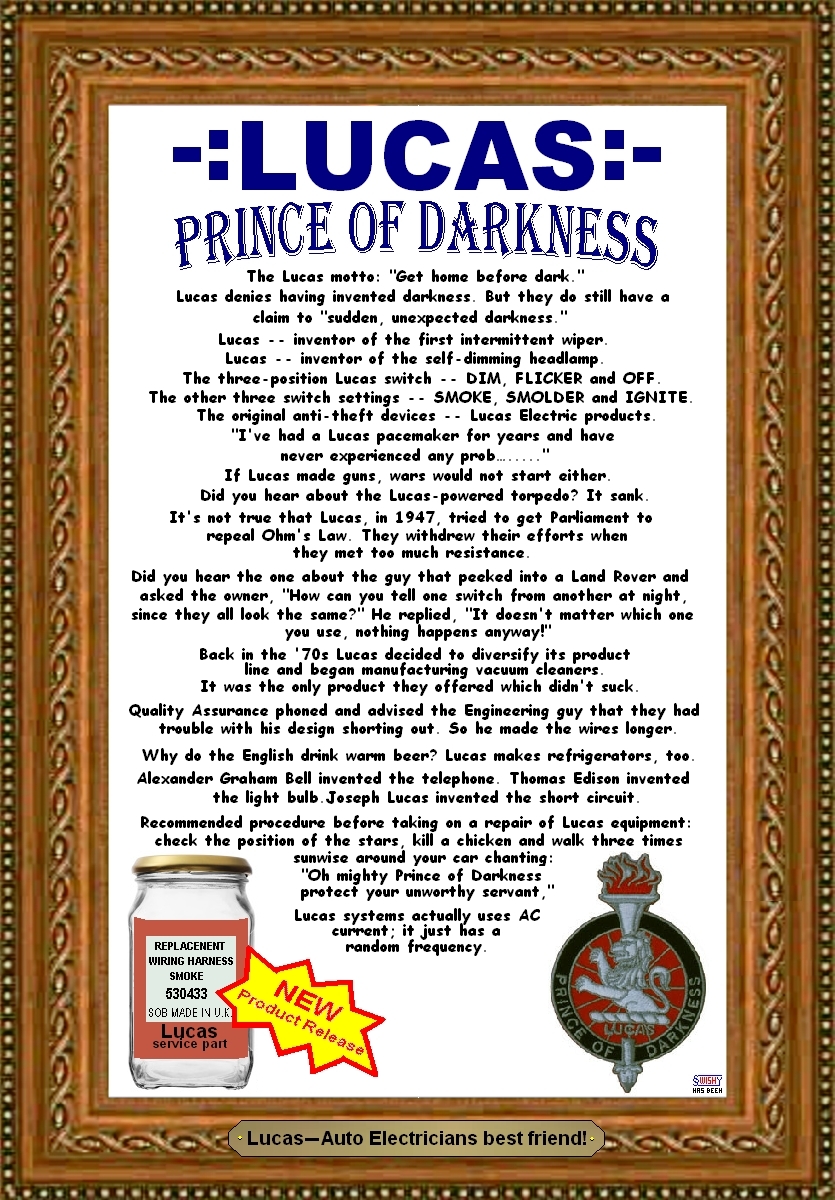 https://forums.parallax.com/discussion/155680/lucas-prince-of-darkness
Come the afternoon I had to abandon the 'Prince of Darkness' due to the pishing rain so turned my attention to the 1200kg of forklift batteries nestling on my trailer.
The 24 cells had been sitting there for a couple of weeks now awaiting the arrival of my enthusiasm. The crate was just too heavy for Calum's boom and dipper at the height and distance required to lift the whole crate off the trailer bed. Consequently I'd parked it near the shed they were going in, planning to lift them off in two or threes at a time.
However, it was now so wet that I didn't want to risk slinging the slippy plastic casings with wet strops so I lifted all 24 off by hand and put them in the generator shed to await yet another bout of enthusiasm which may arrive sometime around the next full moon
At least now I'll be able to move Calum the Kubota and Ifor Williams out of the way. Perhaps then I can continue my work with Satan in the dry shed