Reluctant, that just about sums my mood right now, admittedly not quite as reluctant as I was half an hour ago right enough. Then I was laid in my bed with the wee dug squashing my feet listening to the rain lashing all three triple glazed windows in my room. Hmmmm, must be bad methinks, fist off I can actually hear it and secondly it seems to be pelting all three windows with equal vigour, well, that'll be the north wind by with I thought.
Well, I'm up now and whilst it is still pitch black outside, the rain has stopped and a quick scan of XC Weather https://www.xcweather.co.uk is telling me (along with the BBC) that it's not actually gonna be as bad as yesterday's prophecy of 'doom and gloom'. This is really good cos I would like to return to my multi coloured spaghetti project later today
A change over
When I don't want to do a job, I put it off as long as possible and I am extremely good at finding reasons or excuses not to do it. This being a skill that seems to come naturally and one I've honed over the thirty years I've been VAT registered. It's either too nice to be stuck inside doing paperwork or I can't find my 'lucky pencil' or the office needs to be tidied first or some other lame excuse. The same goes for replacing my battery bank, it has been 'on the cards' now for a couple of months and I just can't seem to get my self revved up to do it. Sure, it's a big and heavy job but that seldom puts me off, I seem to thrive on such tasks.
After putting it off cos I couldn't lift the batteries off the trailer in their box with Callum, I moved them out of the way where I couldn't see them, or at least wasn't tripping over the trailer and digger. The task then moved several rungs down the 'to do' list ladder when both hydro turbines came 'on line' making the storing of dwindling PV energy less of a priority. A constant 1600W being generated by the hydro turbines giving almost 40kWh per day, much, much more than a single man and wee dog can use in a day, no matter how much washing I do, though I really must buy an electric kettle
I had also managed to convince myself that I should fit a 'changeover' switch in the bunker to keep the house 'live' whilst I was doing it. This is the kind of switch usually fitted if you have a backup generator and it allows you to switch more or less seamlessly between grid and genny in the event of power cuts, far, far safe than a 'widow maker' lead used by many people.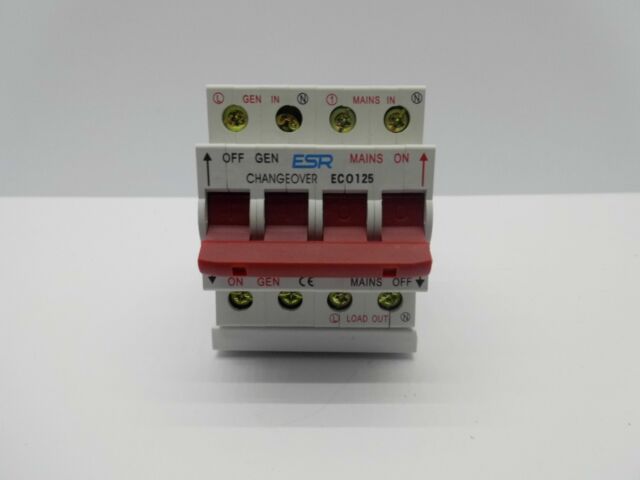 Like that one but with two UK plugs
                  Much safer option and rated at 125A not 13A
Fitting one of these in the 'bunker' (my plant room behind the house) would allow me to easily switch from the SMA SI6.0H inverter and it's battery bank to the Outback GVFX 3048 one and it's bank in the bunker. That way I could take as long as I wanted, days or weeks even, without interrupting the house supply. I felt this quite important cos, A, I fitted this Outback system years ago for just such events and have never actually fully integrated it and B, the new batteries are a completely different shape and the generator shed they live in will need reconfiguring and carpentry.
First thing after finding a home for the switch was isolating and checking to make sure everything was dead. Options being limited by the tight run of the 10mm square armoured cable but after moving a junction box and making a couple of 'stand offs' for the new enclosure I found a suitable location. Of course this took me most of the morning, stopping only for 'second breakfast' around 10:00AM.
I was well chuffed with the result, even more so with the fact that upon testing it I found that nothing needed resetting, not even the cooker clock
After lunch wee dog and I went over to Torran, meeting Dennis on the way,
he was very friendly
Molly wasn't too impressed right enough but when she saw how large he actually was she stopped growing
Loch Arnish was much more 'at peace' than it was yesterday though was still some 'cotton wool' around the north side of Holm Island off Skye.
A bit like trying to clear the lumb
The afternoon saw me turning my attention to another task I'd been putting off, but more to the pishing rain than a reluctance to tackle it. The 'Old Girl's' wiring was in serious need of sorting, with lots of it missing and the bits that were there were often from other vehicles
There was a huge section of some 18 cables missing that runs through the chassis. It having being cut and binned by Tayside Land Rover https://taysidelandrovers.com/ . I'm sure it would be their standard practice when replacing a chassis to cut the loom at each end and fit a new section with the new chassis. Who knows what state a Land Rover loom is like as by the time you want a new chassis you have usually had the old one welded several times to scrape through another MOT and C530VSX was no exception.
I do have suitable 13 core and 7 core cable on the way but I thought I'd 'prep the ground' first by making note of the colours and functions of each cable. I also made an attempt to push something through the chassis to drag the cables through. Sure you can get special fibre glass rods like thin chimney/drain clearing rods, specifically for this purpose. https://www.amazon.co.uk/Blue-Spot-60008-10x1m-Access/dp/B002HMOFQE/ref=pd_lpo_60_t_1/261-0513222-9500869?_encoding=UTF8&pd_rd_i=B002HMOFQE&pd_rd_r=84f18ab7-afd2-47ba-9c71-237b4fd65f79&pd_rd_w=tXpnz&pd_rd_wg=23fol&pf_rd_p=7b8e3b03-1439-4489-abd4-4a138cf4eca6&pf_rd_r=47B8QH7YNNJYSEFXK4XK&psc=1&refRID=47B8QH7YNNJYSEFXK4XK
They're not expensive but I don't actually have any and managed to convince myself I could do it with nylon pipe.
I should have known better hey, after all my shenanigans with the chimney
The pipe I had in mind had been coiled up for so long that it was too 'curly wurly'  to go through the full length of the chassis.
Right enough I did mange to get it through most of the way but it kept insisting on coming out of every hole but the correct one
With light failing and my stomach rumbling I pulled the pipe out and nailed it to my bench, hoping it would straighten out overnight. Methinks I should have just ordered the £16 pull throughs hey.
Well, it's 8:00am now and almost daylight, pig feeding and Land Rover time methinks.