Home at last
Well, it's been a boodly hectic and record breaking docking for sure. I may well have been away for two weeks down in sunny Greenock but we were only actually in the dry dock itself for less than a week! Which is why you've heard little, well nothing really, from me. Basically, I've been either in my room an the Holiday Inn Express, at work and then back to my room for dinner and bed. Most night's so tired that I've surpassed my usual 'early to bed' regime by up to an hour.
Sunrise at Greenock.
Briggs Marine's Kingdom of Fife https://www.briggsmarine.com/services/vessel-charter/kingdom-of-fife/ in the Great Harbour https://canmore.org.uk/site/68402/greenock-great-harbour . The Great Harbour was part of a large late-19th century scheme to create a massive harbour to compete against the Glasgow Docks. The scheme was not successful and the Great Harbour part was never completed to the scale of the original plan. Much of the spoil from the James Watt dock was used to create an island called the East Jetty (see NS37NW 18.1) and a quay along the former shore line at Ladyburn (NS37NW 17.1).
The Kingdom of Fife is a regular visitor to the waters around Raasay with one of her Masters being an ex Hallaig skipper.
No sooner were we out of the dry dock than MV Loch Dunvegan came to join us.
She would be going into the dock at the same time as the MV Porto Salvo https://www.marinetraffic.com/en/ais/details/ships/shipid:184151/mmsi:232527000/imo:9330977/vessel:PORTOSALVO an oil rig supply vessel that had made the journey from Heysham  in Lancashire.
That last image being from Ashley Hunn of Marine Traffic.
Departing JWD on Monday evening past the 'Second Snark', Victoria Dock and the Container ship MSC Eyra https://www.marinetraffic.com/en/ais/details/ships/shipid:421157/mmsi:357632000/imo:8201648/vessel:MSC_EYRA
Mine hunter HMS Grimsby,https://en.wikipedia.org/wiki/HMS_Grimsby_(M108)  MFV Endurance and the wrecked 'Sugar boat' lying on a sandbank in the river https://en.wikipedia.org/wiki/MV_Captayannis.
Arrival at Largs on Monday evening with MV Loch Shira and the local fishing fleet.
Anyway, Tuesday came round quick enough, I handed over to my trusty 'back to back' in Largs after the annual 'compass swing' https://en.wikipedia.org/wiki/Magnetic_deviation and headed for home. Passing through Lidl in Fort William on the way for a £100 shop that included no alcohol and lots of green things. The food at the Holiday Inn being more than adequate but lacking in healthy fruit, veg and limited in choice. Hardly surprising really with the lack of customers and COVID protocols in place. Even so I had some 9 sticky toffee puddings in a row!!! Not that I'm a fan but simply to fill me up ready for the following day ahead
A world apart
Arriving on Raasay around 19:10, IN THE DARK!!!, it was a very different home to the one I'd left 14 days earlier, the stags were bellowing even louder and the first woodcock flapped up in front of the car, the equinox can not be far away
still, it's Thursday morning now and I've not seen or felt a single midge
The leaves are rapidly falling from my old rowan, the Storr is just the same and I much prefer a sunrise on Raasay to one in Greenock
Rodney, Bismarck and Tirpitz made their first sortie onto the hill after a fortnight of being confined to port and my chooks laid Wednesday's lunch. The pigs had been on the croft during my absence as I wanted to make life easier for my 'pig sitter' so they were 'over the moon' to be 'free at last' once more. Duchess and Curly provided me with the first proper eggs I'd eaten since leaving home and I had them with a great big Greek salad for lunch
.
The beautiful day that was Wednesday I spent 'pottering', touring the 'estate', listening to deer and not police sirens
and just generally soaking up Arnish, it was fantastic. I did what I pleased minus gloves, mask and steamed up glasses, said hello to my new neighbours, had a cup of tea with old ones and just generally took it easy.
You have gotta be kidding
My 'Old Girl' C530VSX taking up some of my attention for the day
Working as I do in the marine industry I'm no stranger to absolute 'rip offs' fit anything on a ship and it instantly quadruples in price. Volvo parts for a truck are expensive enough, fit them to a ship and their cost spirals. Land Rovers have their moments too and I'm quite used to being quoted £400 for a fuel tank when I can buy a 'Britpart shitpart' one for £90. Sure the Britpart one aint as good but hey, it's not four times worse either. Anyway, my tank had been leaking so I'd ordered one anyway from Paddock https://paddockspares.com/ anyway with a new filler hose to go with it. Like I said, the tank was around £90, the hose a tenner. When the hose arrived, it was the wrong one, my fault as it was what I had asked for.
NTC2337 which turns out to be slightly too short and narrow at one end, this one being for 1986 onwards and mine being the earlier one NRC9291

which is a mere £169.79!!!!! Aye right when you can buy a 76mm 45 degree turbo intercooler pipe for around £20 that will do the same job or even fasten two NTC2337's together with a short length of pipe and two jubilee clamps.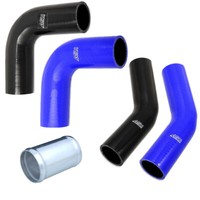 So that's it really, I was up at 3:00am so thought I'd get back into my early morning blogging with several cups of real coffee. Choosing not to listen to the World Service on account of there not being much 'good news' about these days, tis 5:30 now so methinks I'll risk the Shipping Forecast and inshore waters, at least that should be good