Well, it be a black and uninspiring day today and Saturday looks like the best day before returning to work next week, at least as far as wind goes. Sure there'll be brighter days but between now and Wednesday afternoon it looks like no respite from those 'red' winds, time to drag the boat back to the shed for the rest of the winter methinks, if not today, at least before Tuesday.
Thursday
Methinks I left you on Thursday morning and went to clear some drains on what was a pure 5h1t of a day.
With no prospect of improvement on the horizon I collected my neighbour and decided to head south and do some dog walking.
That was of course once I'd got by the 'guard pigs' who wanted to come too, the black one on the right was on heat and very vocal
That done, we all retired to Sonas for a feast of left overs
basically a fridge full of treats out of my wife's fridge.
I also got what is probably my last Christmas present
priceless, I mean, why do we do it
Friday
A very threatening start to the day had me heading over to Torran for some more 'first footing' though this time minus the 12YO which is still sitting unfinished in my kitchen along with the unopened wine bottles. Hopefully 2020 will be a year of less wine and more water
For a good portion of today though, methinks I'll be back under the Subaru replacing rear anti roll bar links and perhaps more brake pipes. The ARB links seem to be an annual item on most vehicles these days, no doubt an indicator of the perilous state of the roads. The brake pipes were raised as an advisory last year so Ross and I changed the offending one yesterday but I've not had time to inspect the rest fully yet. We got 'called away' yesterday afternoon to collect some IBC's from the Raasay pier. Well, not exactly summoned but with the state of the forecast I thought it prudent to retrieve them before they got blown back to Skye. Many thanks to Charlie Gillies for arranging the 'deposit' and the rest of the 'team' for the carriage
Subaru brake pipes
The MOT actually ran out months ago, something I only realized when I tried to tax the car afore I went to my aunties funeral. Fortunately you can still tax a vehicle on Raasay without an MOT so I've still been using it 'on island' in-between the various repairs. Work in progress as they say
A tyre replaced, a sidelight and fog light fixed and then yesterday, the job I've been putting off the longest, the rear brake pipe.
I dunno if the Subaru is unique amongst production cars (probably not) but it is the only make I have encountered that routes the brake and fuel pipes inside the vehicle. This I have seen and done myself on specially prepared rally cars and off road vehicles but Subaru make em like that. This is truly fantastic at keeping the majority of the lines out of harms way and away from salt and the elements but it does make them a PITA to replace. Unless of course you just cut out the offending section and splice in a new one, which is what we did.
To facilitate this I bought myself a new brake pipe flaring tool, sure I've had one (in the red box) for 30 plus years but it really needs to be held in a vice. The natty little tool I purchased off eBlag is designed to be hand held so you can use it on the vehicle https://www.ebay.co.uk/itm/Copper-Brake-Pipe-Line-Flaring-Tool-Professional-In-situ-3-16-SAE-Hand-Held/261734862516?ssPageName=STRK%3AMEBIDX%3AIT&_trksid=p2057872.m2749.l2649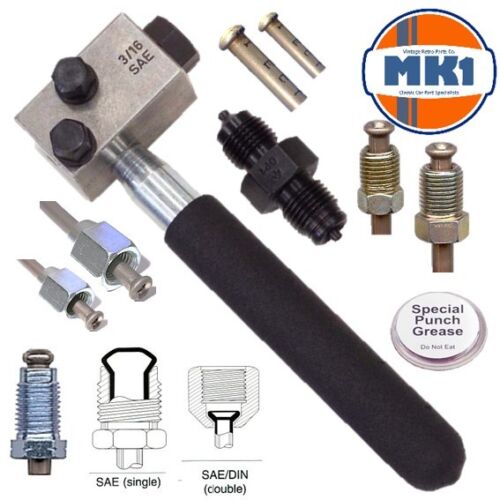 and I gotta say, it was £32 well spent.
We removed the lid off the master cylinder, took out the wee filter and then filled the reservoir right to the brim. I then stretched an old latex glove across the top of the reservoir and refitted the lid.
This removes any airspace above the fluid and blocks the vent thus preventing any brake fluid running out of the pipe once it is cut or removed. If it does not actually prevent it, it does at least slow it down dramatically. In this case no fluid came out at all once we'd removed the rear seat and cut the pipe inside the car.
Not only do Subaru route the pipes inside the vehicle they make the connection blocks out of brass!!!! consequently the nipples are actually easy to remove even when corroded
What could have been a total nightmare of a job being achieved without any pain or a sore back by having a decent flaring tool and a Chinese lift. Sure, I wouldn't be using it in a commercial venture but for DIY work and treated with respect it sure has made my life easier when it comes to maintaining the fleet