Now, I'm not complaining, far from it but there's something quite peculiar about awaking at 'stupid o clock' and seeing Orion https://en.wikipedia.org/wiki/Orion_(constellation)  staring in through the bedroom window. My favourite winter constellation, Zeus's hunter has been sadly absent this autumn, the thick cloud cover of late having made star gazing impossible.
Not just Orion on the left but the Pleiades or Seven Sisters top right, which the Japanese call Subaru
Sure Subaru rearranged them and there are only six on the badge but that where the name comes from https://thenewswheel.com/behind-badge-what-do-six-stars-subarus-logo-signify/ Perhaps they see it upside down in Japan
And whilst I was outdoors admiring the heavens at a balmy 5 degrees Centigrade the wee dug took the opportunity to rearrange my bed and get inside it
Stupid o clock again
Well that effort didn't last very long, by 20:30 I was falling asleep at the keyboard and went to bed! Out like a light I was then woke up just in time for 'Sailing By' !!!
Which, for those 'not in the know' is the theme tune to the last Shipping forecast (or first) of the day and close of Radio 4. Been listening to this since I started diving some 40 odd years ago
How sad is that? So at around three quarters of an hour after midnight I made me a hot chocolate and ate a banana. My dear old Mum always said that got her back to sleep, well, it did, after a chapter of  https://www.amazon.co.uk/Path-Between-Seas-Creation-1870-1914/dp/0671244094 An excellent tome about the Panama Canal by David McCulloch which is about as thick as breeze block and will take me the rest of the year to read
Well, I then managed to sleep right through until the World Service handed back over to Radio Four five hours later so I suppose I got my eight hours in more or less
More generator woes
Right, back to yesterday, well it was a 'pure peach' here at the North End, the first task being
to repair one of my many 'wheelie bins' that had been just emptied by our illustrious men in the yellow truck. Sure it's the HRC's job and it's very much in vogue to moan about councils and the bin men. Our bin men are pure brilliant and nothing is too much trouble, one of the fresh crew arrived from Greenock on Tuesday and said their bin men moan like feck if you don't put the bins the right way round!!! Ours are happy to drive ten miles up a single track road and remove the boulders off the lids to stop the wind blowing them away
Then it was the main task of the day which was getting rock and sub base for repairing the Torran track to make it more 'Mule friendly'. The Kawasaki SX 4×4 Mule copes admirably on the journey to Torran but there are one or two places where it 'bottoms' and this is only gonna get worse with a barrel of diesel or heating oil in the back.
That kept wee dug and I occupied until lunch or was it third breakfast and a mackerel sandwich
A phone call from Brochel about yet another broken generator confirmed what I'd be doing in the evening, meanwhile I did another couple of loads for the road. My imagination running away with me at Rainey's Wall where the low sunshine revealed (to me at least) an Easter Island Moai https://en.wikipedia.org/wiki/Moai watching over Tarbert.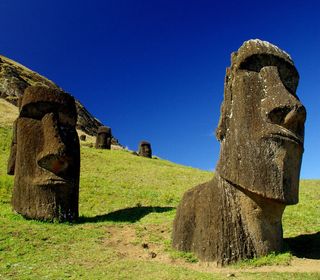 And I've no had a drink in months
Next, much to 'wee dug's' excitement I ranged the sights on my rifle. I had shot a deer recently at around 100yds with a perfect shot to it's neck.
The deer went down like a stone but I was actually aiming for the chest.
After some 20 rounds I did eventually find the centre of the target, honest
As my wife used to say "If we had to rely on your hunting skills for food we'd starve"
That done I loaded up my tools and went to see what I could do with the brand new Stephill 6kVA generator that wouldn't start, in fact has NEVER started!!!
Well, as you can see, the clowns who fitted it managed to wedge it in a corner with absolutely no room to work on it. They had the whole feckin garage to mount it and the lithium battery pack yet they shoved both in a corner leaving no room to work on the generator, which would not start and to my knowledge has never started
Right enough though, they did make a lovely job of the wiring, that rubbish in front wasn't there when the inverter and charge controller was fitted.
Anyway, due to their stupid positioning I had to hack several spanners to get to the injector and pump on the Yanmar diesel engine.
Initially I set about the cheap Indian ones but they just kept breaking and I had to resort to cutting my trusty Snap-On 17mm combination spanner which I've had for 35years
Someone will be getting the bill  https://shop.snapon.com/product/Short-Handle%2C-mm/17-mm-12-Point-Metric-Flank-Drive-Short-Combination-Wrench/OEXM17B £36 for one friggin spanner !!!!! and whilst it did undo the nut I still couldn't get the generator to start
Well, that'll be today's project then
I finished off last night's tasks by doing some work on the new pig de-hairing bath.
Unlike the cast iron one I broke last year this fibre glass one is at a better working height, at least I hope it is, it will be getting 'Christened' next week with May or Snowy.
Right, that's it then, 7:30 is here, no sign of the stars but it is 'black as the fire back' outside, better feed the animals and get some work done hey.