I can't believe it's only just after 18:00 and I'm ready for bed,
not even 'hitting' the San Pellegrino is stopping me yawning and I don't think it'll be long before I can't keep my eyes open. Sure it has been a busy old day right enough with me awake at 'stupid o clock' gazing on the waning moon above.
It was the sunrise around 5:30 that finally prised me out from my bed and caravan to face the beach at Firemore on the shore of Loch Ewe. A couple of coffees later wee dug and I headed up to Rubh nan Sasan and the Cove Point gun batteries.
In search of the Iron Duke's guns
Just 'on the off chance' and with the Disco having such a cavernous boot, I'd thrown my diving gear in the back and me being so enthusiastic of a morning, I decided to go for a dip.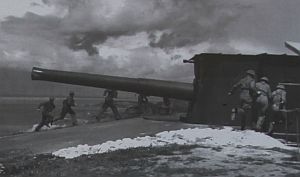 At the end of WWII the two 6" guns that looked out over the Minch and protected Loch Ewe from enemy warships were just unbolted and rolled into the sea. I know this for a fact cos I dived on them in the 1970's. What I didn't know then was that the guns had been removed from HMS Iron Duke  https://en.wikipedia.org/wiki/HMS_Iron_Duke_(1912) were they served as her secondary armament https://en.wikipedia.org/wiki/BL_6-inch_Mk_VII_naval_gun . Casement mounted there were 10 of them capable of firing a 45kg projectile the best part of 9 miles. Two of them found their way to Loch Ewe and the rest became shore defences around Scapa Flow where Iron Duke served as a floating AA gun battery, her main armament having been removed post WWI as part of the Washington Treaty https://en.wikipedia.org/wiki/Washington_Naval_Treaty on trying to reduce the 'arms race'.
Well, the treaty didn't work but it did spawn some interesting and novel designs, Nelson, Rodney and Graph Spee to name a few.
So after hauling me diving gear down the cliff as I did in 1978 I went for a very interesting dive in the gullies where a 7ton gun might be resting.
Found two lobsters trapped in a creel, saw lots of fish and generally had a jolly time, however, so no sign of said ordnance and managed to loose my camera on the way out
Still, it was a great way to start the day before breakfast
Island hopping
Three cans and Lord knows how much sugar later I'm still awake, probably more so once I finish off the tiramisu and let Molly lick the carton
Anyways after my morning dip, explore and a quick shopping trip to Gairloch I managed to catch up with my pal Willie from the Isle of Ewe. We've helped each other out with various renewable energy project over the years and I've usually managed to catch up with him whenever I was in the area. Sadly since me Pop died, that's not been very often. Willie lives and farms on Ewe with his family and like me is 'off grid' unlike Raasay though the whole of Ewe is without power.
Willie came over to collect Molly and I from Aultbea pier in one of his Pioner boats and gave us a 'grand tour'.
We landed at the south end at what would have been the traditional old pier near where the majority of people used to live. Willie called it 'The Square', which I guess is what it was a square of houses, farm buildings and somewhat startlingly a mill!!!
I was aghast that such a low lying island could produce enough water for it's occupants, let alone a mill. Ewe is hardly high either but he explained how all the dykes and ditches were channelled to a storage loch with a sluice that acted as a kind of large battery I guess. It really was quite amazing with the architecture of wide stone arches looking strangely out of place here on the draughty West Coast.
Willies family were just as ingenious as the generations afore him as he showed me the remains of a landing craft they'd built after the war (not sure which one
)
And that, if I'm very much not mistaken is a Ford Pilot V8 petrol engine https://en.wikipedia.org/wiki/Ford_Pilot 
After our 'grand tour' Willie ran us back to Aultbea where Molly was seriously unimpressed with the steel grating steps
We then drove past the lovely Aultbea village hall, still retaining its wartime appeal
I went to see South Pacific  there with me wife a few years ago.
Also went to a wartime dance there in uniform, my dancing was pure 5h1te
 http://www.russianarcticconvoymuseum.org/
Then it was the Convoy Museum at Aultbea which was brill but me battery is about to die and I canna charge it so I'm gonna go finish me Juice and tiramisu
I will finish it tomorrow, good night.