Heading up for 22:00 now and that's me just sat down after demolishing a crab salad with boiled spuds and a side of scallops and bacon fried in butter. What I should be doing is reading a good book in bed or watching the most gripping piece of TV I have ever seen, in fact the most gripping anything I've ever seen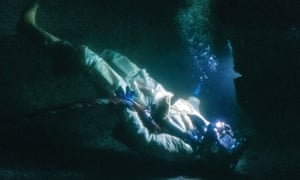 https://www.theguardian.com/film/2019/apr/05/last-breath-review-deep-sea-disaster-documentary-divers
However it took me the best part of two hours to make me dinner which is about as long as it took me to catch it. That included taking the boat out of the shed, driving it to the slip, launching it and then filling my diving cylinder after
Sure, it was only a salad but there's a lot of work in a crab and it was after 21:00, the time that the film started. I'd seen it months ago before it was released and didn't think I could handle the suspense and emotion again. Not only that I'm making a superhuman effort to keep doing me blog. You have no idea how tempting the freshly changed sheets and 'The Sunken Gold' by Joseph A Williams https://www.amazon.co.uk/Sunken-Gold-Espionage-Greatest-Treasure/dp/1613737580 is
It's been a funny old day here on Raasay, pretty much all of the island judging by the posts and pictures on Facecloth. One minute blazing sunshine and the next a dreich grey mist.
It had been a long day on Friday and Saturday so I was slow in rising and even slower in 'getting it together'. They were two emotional days in Tain with friends sharing their grief and celebrating the full but short life of Gary Perks https://www.pressandjournal.co.uk/fp/news/highlands/1806011/tain-man-killed-in-freak-accident-after-being-struck-by-lightning-in-america/. Young Gary was a regular visitor to Torran when he was a lad and knew these hills and woods well.
Cep for breakfast
Eventually, after a full pot of strong coffee I stirred up the enthusiasm to go out with 'wee dug' to Torran. The batteries needed a top up and 'equalization' and I wasn't actually inspired to do much else.
It's been a fantastic year for chanterelles but the grass was too wet for me to stray off the path, me being afraid of wet feet an all that
There were plenty of boletus mushrooms like the ones on the left and they are edible. However they're best sliced and dried then used in soups or casseroles, just fried fresh they're a bit slimy and that big cep in the middle would be plenty for me breakfast. The one on the right is a death cap and they too have been in abundance this year https://en.wikipedia.org/wiki/Amanita_phalloides Steer well clear of those around an ounce will give you a slow and agonizing death and even handling them will make you ill. If you have ever been unfortunate enough to watch a cat or dog die after eating rat poison, that's what a death cap does to the human
Bubbling nicely
Like my own batteries at Sonas these Rolls cells are very thirsty, unlike mine they're configured for 24V not 48V and around half the capacity. The 2.5kW Studer inverter is more than adequate for the loads there so 24V is a good choice, it gives you a much wider selection of equipment that can be run directly from the battery bank if you so wish.
Once I'd given them a good drink (around 4lts of deionized water) I left the tops loose and set both charge controllers to do a manual 'EQ' that's basically an over charge that's designed to redress any imbalance in the cells.
Out for a dip
I gave the rusella and birch boletus a miss but as soon as I got home I put the cep in the frying pan along with some bacon strips butter and tomatoes. Probably not as healthy as the muesli but it did keep me going until almost 21:00.
With the three new cockerels sheltering from the sun in a pig arc I set about doing what every red blooded male does on Sunday and washed the car
It was beautiful at Sonas but I'm 75m above sea level, down on the shore it was really foggy, as I found out when I took half a ton of cement down to the slipway. I'd made my mind up to put the Searider in the water around high water which was 15:40. The tide was only moving 1.55m today with HW a mere 3.85m which is just about as low as the high tide gets. As it happens I never got in the water until an hour after but it was a piece of cake with the dumper, even on my own.
I fitted a small electric winch in the shed so I can pull the boat up and lower it down the sloping concrete floor, works a treat, though I should really extend the lead or fit a wireless remote for doing it on my own.
Once on the glassy Loch Arnish I went round to Fladda to go and take a closer look at Kaiku
a Finnish survey boat that's been scanning the West Coast for months now.
That'll be her recent track https://www.marinetraffic.com/en/ais/details/ships/shipid:6341/mmsi:230953000/imo:8781117/vessel:KAIKU
After that it was 25minutes at 30m for a few decent clams and a brace of crabs
Anyway, that's it, 23:00 now and well past my bed time, hopefully have more news tomorrow.