Well, actually it's 4:20 and I've already showered and put on the first pot of coffee thanks to this clock nonsense
Did I mention the fact that I'm not too keen on it
The only good thing I can see about it is moving them back in March, having said that, I don't really care what time they pick, GMT, UTC or BST, just leave the friggin' things be! So that will be my rant over for the day though you've probably not heard the last of my displeasure on the subject.
Seariding at last
Just for a change the 'day of rest' was just that yesterday, the Post Lady and I took it easy and went out for a jaunt in our new, well new to us, Avon Searider.
The forecast for the day was 'bang on', kinda grey in the morning with few specs of rain then clearing away to blue skies and sunshine around 15:00. All served up with light northerly winds and a gentle swell. So we hitched up the boat to the Old Girl and dragged it down to the ferry for just after its 10:00AM departure.
Sure I could have reversed into the water but the front tow hitch just makes life so much easier than craning your neck round in a dry suit. It's also slightly higher off the ground so helps with sliding the boat into the water. The northerly swell didn't help matters but with plenty of water and no rocks to worry about it all went just fine and the 90HP Tohatsu TLDI flashed up straight away and never missed a beat even when stone cold.
The first thing every child and petrol head asks is 'how fast can it go', personally I'm not too fussed and am more interested in how good are it's sea keeping properties, how quickly will it plane with three divers and all their kit and how much fuel will it consume. The fact that it accelerated very quickly to 35knots whilst burbling along at 5900RPM was very impressive but after 'seeing what it could do' we very quickly searched for it's 'sweet spot' that economical place where you get the most miles per litre of fuel consumed. I reckoned it was around 3750RPM and 18knots which is where we sat for our hour or so at sea.
The old workplace
Me, I would have liked to make the whole day of it and cruise around Raasay or even go and visit me Mammy in Ratagan but it was quite cool and that north wind had made it quite lumpy 'round the corner' out of the shelter of Raasay and Skye. So we set off to go to Scalpay instead, first visiting the sandy bay at the north end and then skirting the western shore prior to negotiating the Scalpay Narrows.
It was good to see that the fish farms still give up there treasures and I made a mental note to come back and collect that float above. Methinks it would make a fine water tank or pig house. It also has over a ton of displacement so could be used for lifting some big anchors or chain. The mast next to it must be for broadband access for the fish farm at the Moll. Apparently fish farms, like ferry boats cannot operate now without high speed internet. This appears to be for an 'Akvasmart' feed system
 http://www.akvagroup.com/products/cage-farming-aquaculture/feed-systems
I just love all that black pipe
perfect for hydro turbines
Next we went to visit my old home of four years just at the head of Loch na Caridh that stretch of water opposite Ard Dorch and Strollamus on Skye.
You can even rent it now http://www.isleofscalpay.com/scalpay_self_catering_accommodation_skye_faq.php
I cannae spell it I'm sure but a caridh is a stone fish trap and there are one or two of them on the Skye shore here. People often think we are remote here, well it's nothing compared to living at the Narrows Cottage on Scalpay I can tell you. It's had many upgrades since I left in 1989, the whole roof has been replaced for one and it now has reliable 'off grid' power, when I lived there it was all Tilley lamps and a gas fridge. Now I believe it's supplied by a hydro turbine, there's still no road, ferry or phone line right enough and I dunno if it has Internet but it looks a lot more habitable than when lived there.
http://www.isleofscalpay.com/skye_self_catering_island_cottage_scotland.php
I take that back, apparently it does now have a phone!
Next we gingerly navigated the tricky passage twixt Skye and Scalpay that has wrecked more than one vessel. When I lived there in the late 80's we salvaged a 40' ketch off the rocks, repaired the hole and then sailed it down to Loch Melfort south of Oban. The yacht was valued at £44K so the four of us walked away with £1100 each and that was over 30 years ago. After I left another yacht ran aground near the cottage but I wasn't involved in that, than a large steel fishing boat ran aground in the same place as the ketch we salved, apparently the fishing boat thought it was on the east side of Scalpay.
I used to navigate this tricky gap daily, often in the dark when I lived there and worked four miles away but my memory aint what it used to be so we proceeded with caution and the help of the echo sounder and chart plotter. That done we proceeded around the corner over well fished scallop grounds to where I worked almost thirty years ago.
It really had not changed much
the 'Quick Stage' building we took from the Kishorn oil yard was rusting nicely, as were the two large ex Navy pontoons that we used for all manner of work and salvage.
Here's the 100' x 50' building with the tarpaulin sides removed on rails at Kishorn. The 'Quickstage' building was designed so large steel fabrications could be made within it then the whole building would be wheeled away, it broke down into 4 x 25' x 50' sections and we transported it on those pontoons.
Here is one of the pontoons being pushed by the Rotork SeaTruck, https://en.wikipedia.org/wiki/Sea_Truck wonder where that is
Some more picture here https://lifeattheendoftheroad.wordpress.com/2010/04/10/salvage-tales/ on 'Salvage Tales'. Like the Avon Searider, the Rotork Sea Truck is a bit of a classic and ahead of its time.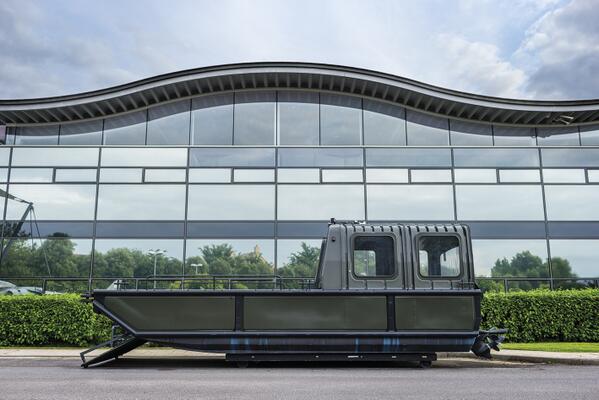 Never realized that James Dyson had a hand in it though https://twitter.com/Dyson/status/353968775579713537
Next we went round to the east side to see if the old Series one 80" was still there
and sure it was, though it has been moved to make way for a deer fence.
So, that was it really, we returned to the pier at 12:05 so as not to interfere with the 12:00 ferry only to discover there wasn't one, of course, not only have the clocks changed but so has the ferry timetable. No midday sailing on Sunday now, last ferry from Sconser at 18:30 and not 18:45 and of course, Saturday late sailing now a request. Anyway, our 18 mile trip burnt around 2.5 gallons of fuel so around 7MPG which is what I was expecting but a bit of that was at WOT (wide open throttle) which I won't normally use. So, all in all I was pretty chuffed.
Recovered the boat and headed home just in time for the sunshine
washed down the boat and got on with creosoting some fences until dusk.