Two weeks since Belladrum and it barely seems to have stopped raining, pretty sure we've not had a single dry day in August. It has been a while since I've been on here but the truth is, I just couldn't face it. Sure there's always a bit of a 'come down' after a weekend festival but never like the one many of us have been on this last fortnight. It was whilst we were away 'living it up' that Raasay's most 'senior citizen' and our true friend Jessie Nicolson passed away. Yes that will be the same dear lady that was up at Sonas just a couple of days afore we went to Bella https://lifeattheendoftheroad.wordpress.com/2017/08/01/ticket-for-bella-anyone/
At a spritely 95 this would have been the first time in her life that she'd not walked the arduous 'Torran Path' to her family home. Indeed she had words with 'Willie the Wiz' for being late. "I could have walked half way to Torran the time it took you to get here" is what she was heard to utter after waiting patiently for her 'taxi'. That was the last time I saw her and as usual, she was smiling, Jessie was always smiling.
Sadly Jessie died in her sleep on Friday night in the home where she raised her four sons Donald, Ewan, Willie and Torquil,
who were the last pupils at the Torran Schoolhouse.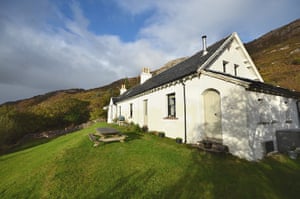 Jessie is going to be sorely missed by all who knew and loved her, ourselves included. Indeed there will be a large gaping black hole in many folks lives right now, especially family and friends of whom there were many.  A veritable goldmine of information on hens, 'North Raasay' history, lore and Gaelic place names she made awesome pancakes, was great company and very much part of our family too. Many is the time she looked after my son, dog and even wife, the latter who invariably called in at School Park to see her and seek shelter whilst working on the post.
Here she is spending a short break with us on Lewis a couple of years ago
and here partying at Torran with family ten years ago. What a night that was https://lifeattheendoftheroad.wordpress.com/2008/01/01/a-very-quiet-day/
Just a day shy of her 96th birthday Jessie was laid to rest in Raasay's cemetery on August 11th 2017 at a very well attended funeral. The 'Glorious Twelfth' will never be the same without Jessie Nicolson.